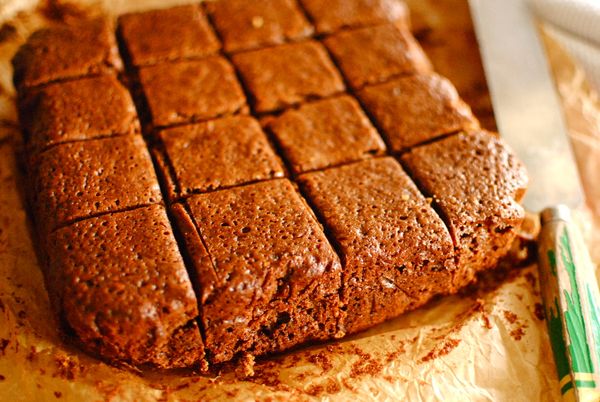 ---
Normally known as a traditional Bonfire Night speciality, Parkin walks a fine line between a cake and a toffee and is the perfect teatime treat for a cold day.  The recipes I've seen vary immensely, but there is a constant theme of ginger and treacle running through all of them.  It has the almost magical power to get even better if you store it for a couple of weeks rather than going stale and to my mind it should be chewy, rich and spicy.  You could almost imagine it was wholesome if you hadn't seen the eye-popping amount of sugar that goes in to it!  This recipe was given to me by the mum of one of my friends at primary school and I still make it regularly.
 
---
INGREDIENTS

9 ounces Plain Flour 
7 ounces Muscovado Brown Sugar 
3.5 ounces Oatmeal 
1 tablespoon Ground Ginger 
5 ounces Butter 
7 ounces Golden Syrup 
3 ounces Black Treacle 
1 teaspoon Bicarbonate of Soda 
2 teaspoons Vinegar 
¼ pint Milk
---
Preheat oven to 170°C. 
Mix the flour, oats, ginger and sugar in a bowl. (you can also add white pepper to spice it up more) 
Heat the butter, syrup and treacle until melted. 
Form a well in the dry ingredients and add the syrup mix, stir well. Add the milk and half a tablespoon of brandy if wanted. When this is mixed in - sprinkle the bicarbonate of soda on the top and splash the vinegar all over so it fizzes - stir in quickly. You should now have a quite runny batter. 
Grease and line a large roasting tray with baking parchment. Pour the batter in so it goes to all corners and put in the oven for an hour. Check that it's slightly springy and cook for longer if necessary. 
Cut lines in the parkin while still hot - then separate the pieces when cool. Pieces can be quite small as it's such a rich cake.